AVOID THE AUTO TRAFFIC AND RIDE THESE SCENIC ROADS, SOME OF WHICH ARE OPEN ONLY TO BIKES FOR PART OF THE YEAR
By now, most of us likely at least know one cycling friend who's had a close encounter with a car. Whether it was an unintentional buzzing, or a full-on crash resulting in bumps, bruises, or worse, sharing roads with cars can be scary business. So why not ride where there are no cars? Here are six great bike roads where you can enjoy auto-free bliss on your bike.
Going-to-the-Sun Road – Glacier National Park, Montana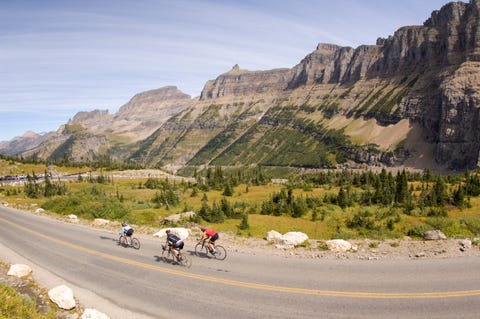 Just like Colorado's Trail Ridge Road, Going-to-the-Sun Road in Montana opens to bikes before it does for cars in the spring (usually for about two months, starting in mid-April). Initially, the road is only partially plowed, but as spring snow melt picks up pace, you can venture deeper and deeper into the famed national park. Depending where you start, it's a 16- to 32-mile ride to the high point at the summit of Logan Pass. The western approach features roughly 3,300 feet of elevation gain, while the route from the east is slightly less daunting with around 2,200 feet of elevation gain.
Either way, plan on pedaling uphill for about a dozen miles on a punchy 6-percent average grade. The reward is worth it, though, as it's the only road in the U.S. that's both a National Historic Landmark and National Civil Engineering Landmark. And of course the scenery is world-class, with sprawling views of massive glacier carved peaks. Just remember this is a remote and wild place. The Park's official website recommends cyclists "bring bear spray, water, and food… and avoid known avalanche paths."