Before you start your hike, plan for a safe hiking experience. Stop at the park's visitors center to get all the information you need, recommendations from the guides, and any special warnings. Plus, don't forget to let someone know where you are going. Be sure to have enough water, food and supplies should anything happen.
(Note from Dave and Deb: We always carry a basic first aid kit when hiking.) But most importantly, bring a sense of adventure and have fun when you try one of these amazing hikes.
1. Ptarmigan Tunnel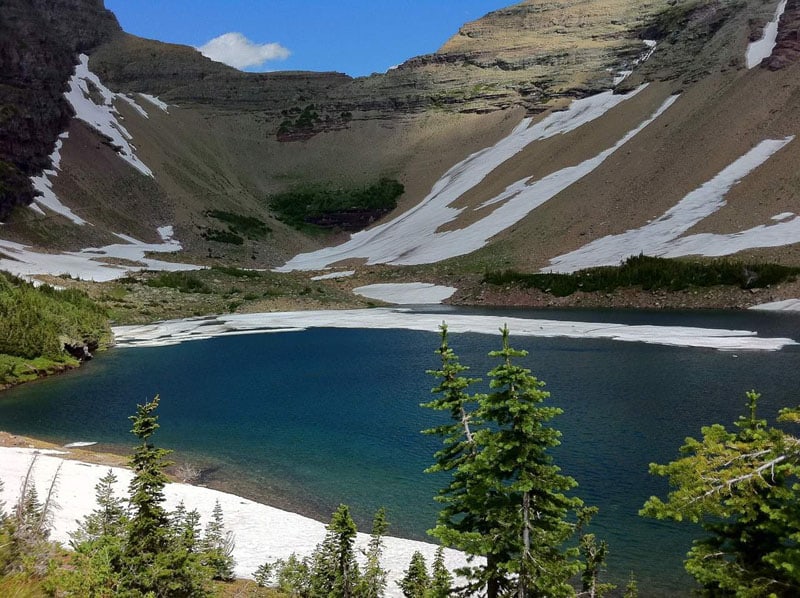 The Ptarmigan Tunnel is a full day Glacier National Park hike. This is an incredible trail, because when you come out at the other side of the tunnel, you feel like you've walked into another world. When passing through this 240-foot tunnel, you hike through big meadows filled with wildlife as well as a dense forest.
Keep in mind that this tunnel was built for horses during the 1930s and it's full of various slopes and edge ridges. After you pass the Ptarmigan Falls, the trail gets a lot steeper, so be prepared for some tough hiking during this section. It then continues for about 1.6 miles to Ptarmigan Lake, where you can relax and admire some of the most beautiful scenery in the area.
Total Distance: 10.7 miles. Be prepared for a long day.