Water is a precious resource.  With too little water your garden may wither and die.  With too much water, your plants will rot from the roots up.  Balancing the water needs of plants with the variable water in your landscape is an art.   When you don't get enough water you need drought tolerant landscaping for your garden to thrive, especially with the variable weather patterns we've been seeing in the last decade.
The Water-Saving Garden, How to grow a gorgeous garden with a lot less water, by Pam Penick (10 Speed Press: Berkley, 2016) is filled with tips to help you create a gorgeous drought tolerant garden with the water you have.
You don't have to give up on a gorgeous yard in drought.  You can use the drought tolerant landscaping principles in this book to create a beautiful and productive yard. The book is divided into 5 parts.  The first 4 offer tips for creating a beautiful, attractive landscape in spite of a lack of water for gardening.  The final section lists 101 plants to use in a water-saving garden. However, of the 101 plants listed, less than 20% are rated for zone 3.
Come back on Monday and see my list of 20 plants for your water saving zone 3 or higher garden.  I've adapted Penick's list and added a few of my own favorites to help you create that landscape in your dreams, while making due with the rainfall that you have.  See my list of water-saving plants for your zone 3 or higher landscape here (coming next Monday).
About Pam Penick
Pam Penick is a garden designer from Austin, Texas.   She's also an award winning blogger and a contributor to Fine Gardening, Organic Life, and Garden Design.  The Water-Saving Garden is Pam's second book.  You can meet Pam on her blog, Digging, Cool gardens in a hot climate.
Since the author is a professional landscape designer the book is filled with professional landscape designs.  You won't find the English country garden or raised bed vegetable garden in these pages.  While the principles of drought-tolerant gardening can be utilized with your vegetable garden, to some extent, there are no recommendations for fruit trees, perennial vegetables, or culinary herbs in its pages.  The book is aimed at the ornamental landscape.  Take the tips in this book and use it alongside Angela England's Gardening Like a Ninja to glean the concepts you need to excel with an edible but water-saving landscape.
Nice pictures of professionally designed landscapes
The photography is lovely with professionally designed landscapes shown at their best season.  There are no step by step tutorials to show the novice homeowner how to create any of the landscapes in the book.  But the book is strong on the principles of water efficient gardening.   If you need step by step illustrated tutorials to create your ideal garden, this isn't the book that will help you do that.  If you have enough gardening experience that you can move from principles to specifics, you'll be inspired by this book.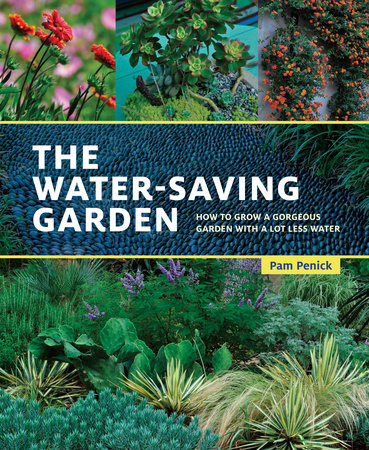 10 Tips for water-saving gardening